Editorial: Chinese Knockoff of Yaesu VX-8 pisses me off.
Editor's Note: It is accepted practice in the field of personal blogging to apologize and come up with excuses when one doesn't update their blog for a few months. I'm not going to do that.  I'm here now.  Move on and read.
For a number of years now, the Chinese have been shaking up the Amateur Radio market for beginning hams.  Love 'em or hate 'em, you have to agree that Baofeng and Wouxun have definitely lowered the cost of entering the hobby, at least for UHF and VHF.
I remember when I bought my first dual-band UHF/VHF handy talkie.  It was a Yaesu FT-470.  It was a beautiful radio.  My dad drove me to Erickson Communications in Chicago to buy it.  It had an MSRP of $395.  I saved up real money for it (I think I was 16).  And it was a brick.  Probably the best HT that money could buy in the early 90s.
These days, a similarly-featured dual bander from one of the "Big 3" radio manufacturers (Icom, Kenwood, or Yaesu) has a list price around $200 (The Yaesu FT-60R is a good example), however there are finer radios with more features that hit $400 or $500 or so, especially when you get into digital modes like System Fusion or D*Star, or if you want GPS/APRS functionality.  Which is why I bought my Yaesu VX-8DR last year — I wanted to be able to use APRS when I went to the HAM RADIO show in Germany.  It is probably the finest radio I have ever owned, and when it was all said and done, I shelled out nearly $800 for the whole kit, including GPS, extra high-capacity battery, speaker-mic, and desk charger.
A little over five years ago, I started seeing some sub-$100 dual band radios at a local hamfest.  I was intrigued, yet I couldn't see how a quality radio could be had for that amount of money.  I can't remember the actual manufacturer of that radio, as the vendor (Main Trading Company) had ordered them custom branded with his logo.  However, that was only the beginning.  You can now buy a Baofeng UV-5R dual-bander on Amazon for $23.99.  Yes, that's 1/16th of what I paid for my FT-470 about 23 years ago.
However, you get what you pay for.  The ARRL has tested a number of HTs at a number of radio conventions and they determined that a number of the Baofengs and Wouxuns are non-compliant with FCC regulations (click on image to enlarge):
Since these Chinese imports are marketed as commercial (Part 90) FCC certified radios (which is verrry questionable considering they are front panel programmable, which commercial radios must not be), these target not only the amateur market, but tightwad businesses with "licenses."  In real life, these are also targeted at people who don't give a s#!t about licenses, but I digress.
Anyway, I'm getting way off here.  My point is that, although they are crappy radios, they get the job done and they have allowed many hams to get on the air.  And they are disposable — if you drop one in the toilet it won't make you mad for a week.  So they serve a purpose.
My real point is that I saw this on Facebook today in the AmateurLogic.tv group: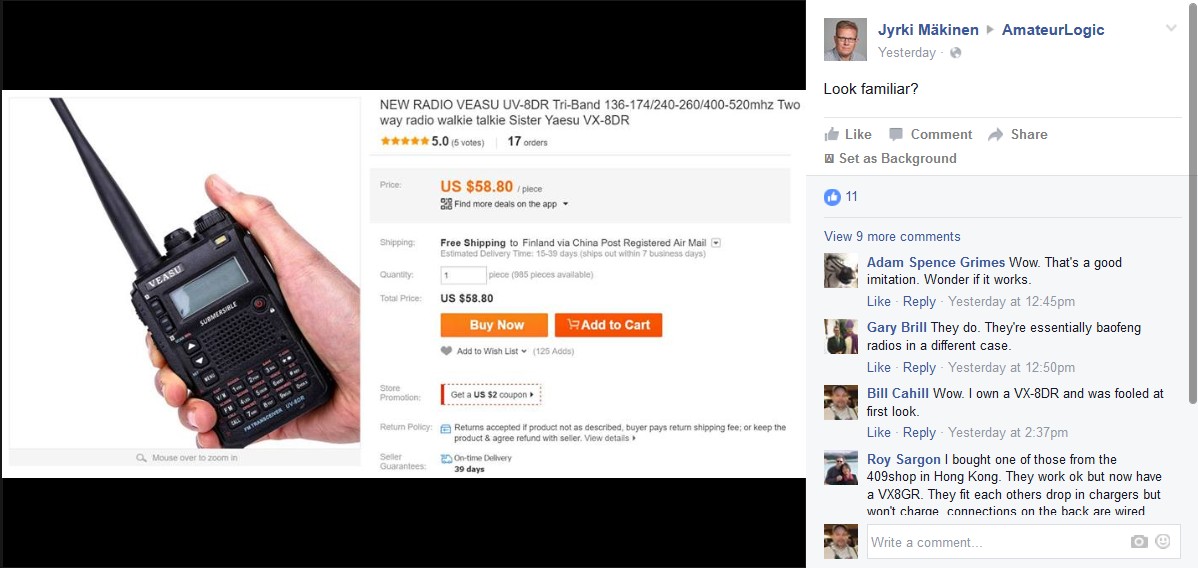 At first look, I thought it was a Yaesu VX-8 series radio.  I own one.  I use it a lot.  I know what it looks like.  I actually had to read the comments to realize what an atrocity this thing actually is.  This is, apparently, a VEASU UV-8DR radio that looks EXACTLY like my YAESU VX-8DR radio (formatting mine).  Look at the image below.  On the left is a picture of the YAESU VX-8DR directly from the Yaesu website.  On the right is the best closeup I could get of a VEASU UV-8DR that I stole from a Youtube video from 409shop.com, a shady two-way dealer in Hong Kong.
One simply has to believe that VAESU has stolen the entire physical design from Yaesu for the case, and used it to house a completely inferior radio.  The only physical differences are the crappy alphanumeric display and the functions of a few of the buttons (since I am almost certain that the knockoff lacks any of the digital features of the Yaesu).  Also, according to the Distant Signal Radio blog, the knockoff is only a dual band UHF/VHF (134-176/400-520MHz) radio, and I'm reasonably sure that it transmits on those entire bands, which probably means that if it's getting "legally" imported into the US than they are marketing it as an FCC Part 90 certified radio.  The Yaesu VX-8 series is actually a quad-band radio, including 6 Meters (50 MHz) and low-power 220MHz bands.
Exactly two years ago today, there was a huge blowup when a bunch of yellow multimeters were seized at the border.  Apparently, US Customs and Border Patrol intercepted a shipment of cheap $15 multimeters that were bound for the good folks at Sparkfun.  You see, Fluke trademarked the gray and yellow multimeter design, and, even though the color combination was widely copied by others (I have two cheap yellow and gray multimeters), Customs managed to catch these.  Below is a Facebook post I made about this (before I had this blog):
OK. Here is a comparison among some popular Fluke meters and the Sparkfun-branded Chinese one. Other than the rubber case (common among DVMs), and the fact that it is yellow (not the same Pantone shade according to the reports), there are some significant differences. The Sparkfun-branded unit does not have red banana jacks for the positive probe, there are a ton more settings on the knob, the LCD bezel is different, typefaces are different, I think the gray shade is different. No buttons under the LCD where Fluke mostly puts them. Shape is somewhat similar. I think that the customs inspectors took a bit of a broad view and I think that Fluke, while not responsible for this particular incident (other than filing a trademark) is taking it on the chin here. Although they may have the power to help.
Even though the physical casing of the offending Sparkfun meter was almost the same colors, there were a ton of differences and the average electrically-minded person would know at one glance that it wasn't a Fluke (the Cadillac of multimeters).  But, if one has a trademark, one must protect it or risk losing it.  So the US Customs people were doing their job.  And, to be completely fair about it, when this whole mess came out, Fluke took the high road and donated a bunch of genuine Fluke equipment to SparkFun, who in turned donated them to educational outreaches to the maker community.
Some claimed that the original Baofeng UV-3R was a complete knockoff of the Yaesu VX-3R.  The physical dimensions are close and the dial and TX/RX LED look identical, but there are also enough differences to cause someone to think when they see one.  I have to wonder if Yaesu pursued any trademark issues with them.
However, here the horrible VAESU people who counterfeited the Yaesu VX-8 committed a flagrant violation of trademark of a beautiful radio.  I hope to God that Yaesu protects their trademark and finds a way to protect it's brand and keep these radios out of their major markets (outside of China, anyway).  I can just imagine some poor new ham thinking they got a great deal when it's really a piece of crap.
(Published from DFW, Texas)