Hamfests: (Unconfirmed) Hamvention Attendance Tops 25,000!
Last night on Facebook, Jeffrey DeVoe posted that 2015 Hamvention General Chairman Jim Tiderman has announced that the Hamvention 2015 attendance was 25,621.  Now I don't know Jeffrey but he lives not far from Dayton so he's probably a member of DARA (or knows one) so I'll trust him enough to pass on this announcement.
This is really good news!  This year beat out last year (24,873) as the best year since 2001, when the attendance was 26,151.  While we have a long way to go until we have record attendance (the record attendance was estimated to be 35,000 people in 1994).
In my May 29 post, I was iffy on making a prediction… but I did make one, and I was right:
So, you ask my opinion about this year's attendance: I believe we hit the elusive 25,000 barrier. Some say no, and some say yes, but I was pretty satisfied with the crowds this year. It was a little difficult to judge based on the weather (when it rains everybody goes inside) but in my opinion Friday was more crowded this year than last year.
To put things into perspective I put my Excel skills to use below to demonstrate the trends since 2000.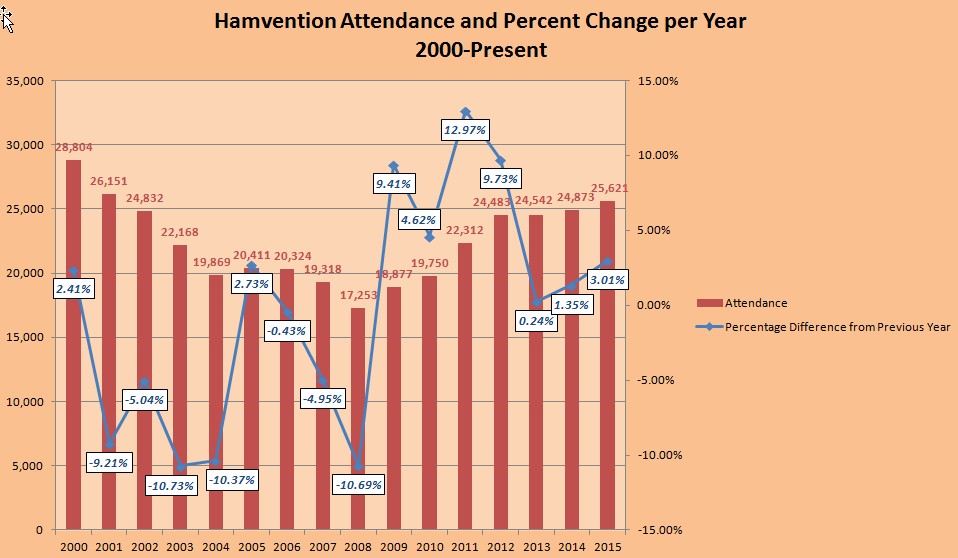 Published from DFW, Texas